The worldofwallstreet.us handy reference (click here) puts annual gold mine production at 2747 tonnes (courtesy abareconomics.com). Its actually been incrementally falling over the last few years (including this year).
Gold fundamentals can be broken down into supply and demand, where supply is roughly:
 - 2747 tonnes, Gold mine production
 - 475 tonnes for the year 2006/2007, Central Bank selling - which is what this article is about.
Investor Selling - not much of this lately.

and where demand consists of:
 - Investor Demand - which is usually the key fundamental that swings the price of gold. I consider Indian Jewelry demand to be investor demand.
 - Jewelry Demand - I leave Indian demand out of this.
 - Other Industrial Demand.

Here's a good article on Central Bank selling (click here). Some number of years ago the Central Banks signed an agreement on how much gold they were permitted to sell. This was ostensibly to limit selling to keep the price from collapsing. The Gold Anti-Trust Action Committee (GATA), if I understand them correctly, views this as actually intended regulate selling in order to suppress the price of gold and believes that the actually amount of central bank gold put on the market is higher than this number with the difference taking the form of gold leases. In either case, the agreed to limit is 500 tonnes (or roughly 15% of total gold supply) per year, with the years ending in September.
This article indicates that the selling for this year has fallen to an estimated 415 tonnes resulting in a loss of almost 2% of worldwide annual goldsupply. The article further claims that the outlook for next year, if no as yet uncommitted central bank selling appears, will fall to roughly 220 tonnes. That's a further reduction of roughly 7% of supply. This together with falling mine output (partly due to power shortages in South Africa) is pretty bullish for gold (in my and the article's opinion).
Its worth noting that the price of lead (Pb) rose more than 100% (from $.80/lb to around $1.80/lb) when worldwide supply fell by 3% with the closing of Ivernia's lead mine in March of 2007. The fundamentals for gold from a supply standpoint thus look strong given both falling mine supply and the outlook for a 7% reduction of worldwide supply in the form of reduced central bank selling. There are many reasons to be bullish about investor demand for gold, but that is outside of the scope of this article.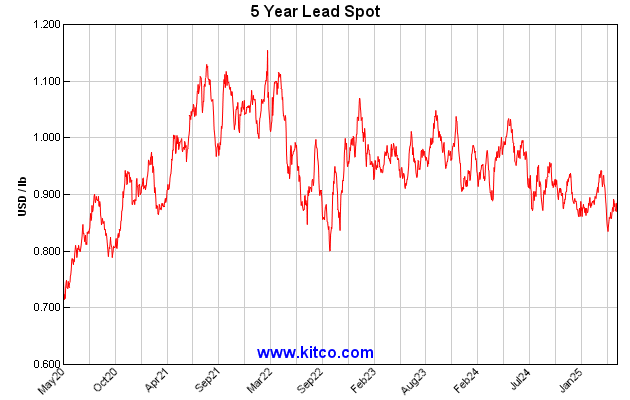 >
You might want to read the above linked article carefully keeping in mind that 100 tonnes of gold/year is roughly 3% of annual supply and keeping in mind what a 3% fall in lead production did to its price.
Pursuing the GATA approach a little further, central banks not meeting sales quotas is for a Gold Price Suppression Cartel the same thing as OPEC members exceeding their quotas. OPEC members blantantly exceeding their quotas in the 80s signaled disunity within the OPEC oil cartel and produced an oil price collapse. Quite the opposite can be expected for the price of gold. The gross failure to fill central bank gold sales quotas signals disunity within the Gold cartel which may result in a meteoric gold price rise.
The situation of the central banks may be similar to the situation of soldiers at the point of losing a war. Does a soldier really want to be the last one to take a bullet for a lost cause? Does a central bank really want to be the last central bank to sell their gold hoard before the price goes through the roof?
Whether you accept the GATA viewpoint or not, the falling central bank gold sales impacts significantly worldwide gold market supply and is, apart from other factors, bullish for the price of gold.
MontyHigh